Bariatric Surgery
Surgical Weight-Loss Information Storage System (SWISS) is a web based data collection tool for bariatric surgery. It was developed in conjunction with Dr Jon Morrow FRACS to enable surgeons performing bariatric operations to record their operative details and outcomes.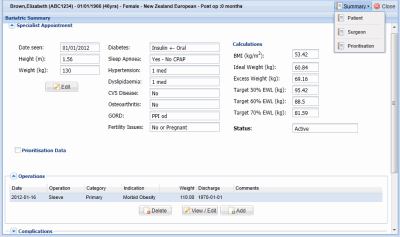 Accessed through the web browser, it allows capturing of information in both public and private settings. Careful planning went into the design to ensure ease of use to ensure compliance and ethics committee approval was obtained.
Currently it records the details of the operation, complications and follow-up data of patients especially their weight. It provides instant summary of patient weight loss and charts their progress. An example of the data entry form is provided in the image.